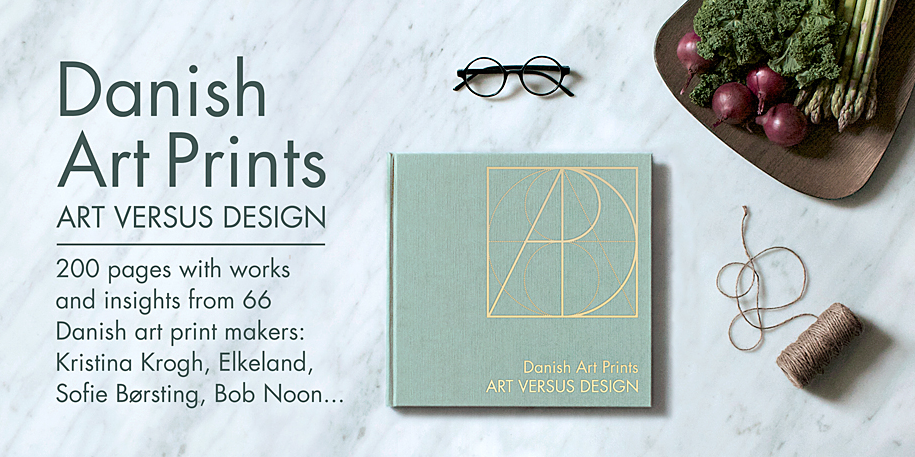 'Danish Art Prints – Art Versus Design' is the name of a new coffee table book edited by Hanne & Tobias Scheel Mikkelsen from the Copenhagen based design studio WhatWeDo. The book is a 200 page compendium with interviews of and examples of works by 66 contemporary Danish art print makers. The main focus of the book is the cross field between art and design.
If you want to know more about what goes on inside this head of mine here is a chance. Below you can read the interview with me from the book.
Ruth Crone Foster holds a BA in fashion design and has been freelancing for the past 10 years for various clients in the dansh fashion industry. According to herself a short description of her job would be somewhere in between 'creative consultant', 'experimental illustrator' and 'entrepreneurial one-woman-army'
What inspires you on a daily basis?
Everything from the pattern on the toilet paper, to the color of the night sky. I take a lot of pictures with my phone and gather inspiration.
Can you describe the style/genre of your prints?
More is more. I love saturated artwork where your brain keeps getting surprised with new elements every time you look at it. This is what I try to do with my artwork. This probably comes from the fact that I get bored easily so I need to keep my mind entertained.
Can you describe the creative process frominspiration to finished art print?
It is like making a puzzle. I start with a little piece of something and at some time I reach the end. Alongside with my daily work I save pictures when I stumble across something I find interesting. Even though I don't know how to match them with each other or if I want to use them at all. When time comes for me to dive in to the folders filled with inspirational pictures I choose the ones I react most to – this then forms my theme and it is like an avalanche from there on out.
Is there a message, a theme or a certain feeling you want to convey through your prints?
I don't have a special message which I wish to communicate. I create because I feel the urge to. I have a great interest in the spiritual world. What some people would call the supernatural world – sometimes this sneaks in. But otherwise I just make stuff I think is pretty and makes me happy. Lucky me that it makes other people happy as well.
Would you categorize your prints as art or as an interior decoration product?
I think I would categorize it as both. This is due to the way my work is used by the people who buy it. I think of my work as a kind of 'Indie art' offbeat with no need for special labeling. It is just what it is. As all art. It is what we think of it. It is all in the eye of the beholder. I don't think to much about it, I just give it space to be what it wants to be without having to control it.
Is there a link between your prints and you living in Denmark?
There is a link between my work and the visual stimulants which I come across, be they from Denmark or Iraq. Due to my background in fashion design I have experience with following trends, this can be perceived both in a good and a bad way regarding art. I choose to view it in a good way. I get bored rather fast and new trends are like waves of new ideas and opportunities. I use my artwork as a playful and creative outlet where I can try fun stuff. I am very serious with my freelance business, so the need to do some crazy shit once in a blue moon is omnipresent for me.
What's on your own walls?
At the moment I have a lot of painted areas. My entire hallway, walls, ceiling and doors are painted in a soft yellow pastel. Here and in the bedroom I have removed all of my own artwork. So it is totally clean and fresh. My living room, bathroom and kitchen are packed with different varieties of my artwork. I have a giant collage behind my sofa 2 x 3 m. I mostly have my own stuff on my walls due to the fact that this inspires me in new ways. I have a big wall in my kitchen where I have a wall of visions, this is where I hang wishful thoughts of projects to come. The only other artworks on my walls besides my own are Bjørn Wiinblad and his graphical retro painted plates and the next piece I hope to acquire is a knitted hanging wall piece from my dear friend Stine Leth.
http://www.danishartprints.com