Stine Bramsen is a Danish singer and songwriter who is best known as the lead singer of the pop phenomenon Alphabeat. The group that said no to the Spice Girls and shortly after said no to Katy Perry, to make time for the album "The Spell". They did however find time to act as main support on the European monster ball tour for Lady Gaga.
Since 2013 Stine has been focused on her solo career, simultaneously with touring and promoting her new hit singles, she decided to create her own skin care line.
The cosmetic consultancy company CCDK contacted me. They had been following Stines moves for several months and concluded that they could summarize all the products Stine uses down to 4 specific products. A Face spray, a face serum, a face cream and a lip balm.
Based on Stines environmental thoughts it had to be as pure as possible, but still have an effect. This led them to use high quality organic raw ingredients in order to have a premium product.
The whole design process started with a mood board presented to me by Stine. The general direction that the pictures showed was elegance, simplicity, light colors, Kandinsky paintings and the number 57. Diving deeper into the pictures I learned that Stine had a great passion for Kandinsky paintings, So much that she has a tattoo of one of them.
So I really wanted to create something that had the same structure and composition as is present in his work. I wanted to incorporate elements such as graphical lines and circles merging together to achieve a perfect balance in a similar way to the one Kandinsky uses in his art. Stine was aiming for at clean look to match the cleanness of the ingredients, so as to meet her wishes I chose to use some of Kandinskys simplified drawings as a reference point.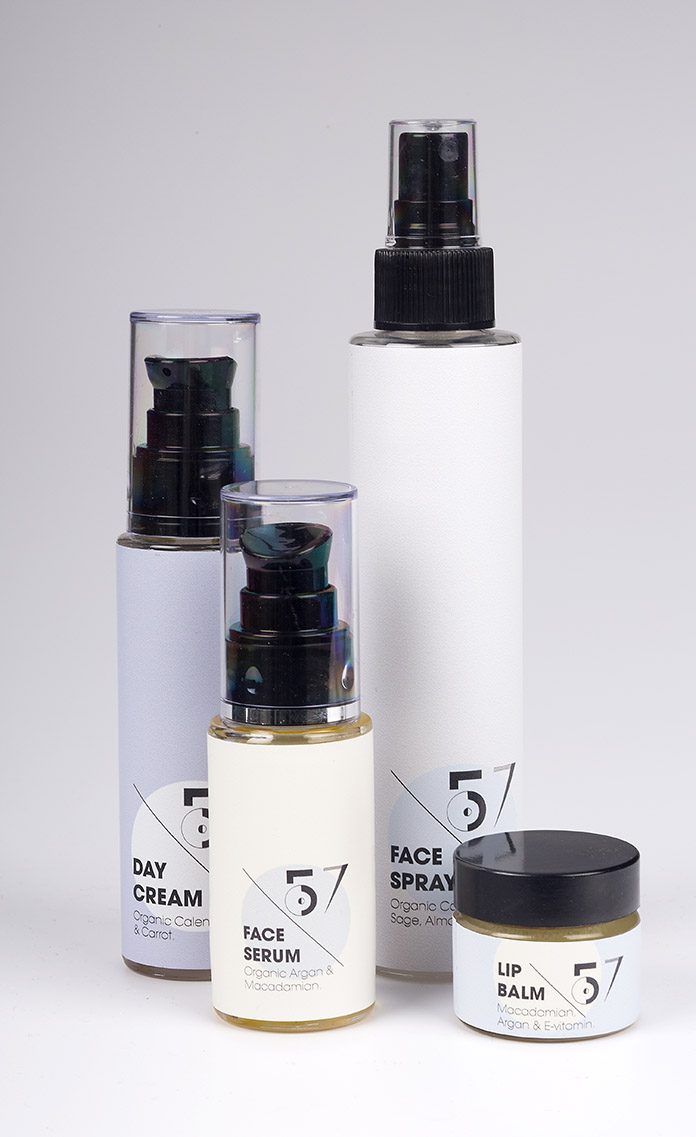 When we started the process of creating the brand identity it had a totally different name, but as we progressed it became clear to us, that we wanted to use something that carried more significance and meaning to Stine. After looking at the mood board, we chose to go with Stines lucky number '57' which has seen Stine through and which carries a lot of personal significance and power.
The color scheme we worked with during the entire process was always in the pastel area, I played with a lot of different combinations but ended up in the light blue family, which also suited the original mood board sent to me from Stine. I toned the final colors down a lot so they were soft and had an understated organic elegance.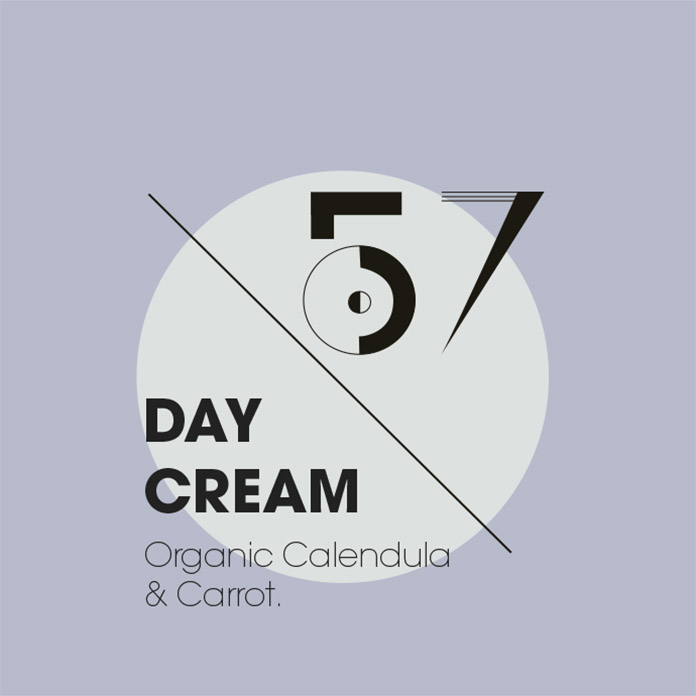 Because we would be making such a little batch of products we had limited containers to choose from. The one I chose to use was a long slender glass bottle.
Stine travels a lot and needed her products to be light and durable for touring when giving concerts. I chose the black trimmings to match the logo and writing on the packaging.
Since Stines preference lies with organic products, it was vital that the different products were made with organic ingredients so as to accommodate her taste and present lifestyle choices. It was very important that Stine was happy with the look and feel because everything surrounding the cream, from the ingredients to the logo and packaging, would be representing her.
The first batch is very limited and besides being used by Stine herself she also shares her products with friends and family.
Skin care series for the danish pop star Stine Bramsen.
The moodboard sent to me by Stine