It has been a great challenge to be able to merge my Ruthless into the CAT universe. The trick is to be true to your self and the brand identity at the same time, so the customers get something fresh but it still feels like CAT.
I started out by doing some research. I wanted to get an overview of what was trendy and what would be on the verge of trending.
I was inspired by a lot of different trends. And I chose a variety of these, which could fit the CAT DNA, my personality, and at the same time an easy to use product for women.
Cat Bags_Spotlight Video from Ruth Crone Foster on Vimeo.
Multifunctional : Multifunctional was a key word for me, So that the bags can be carried in two ways. The backpack can be worn as a backpack or be carried as a shoulder bag, using the shoulder strap.
Brass/ rings : For the hardware I was inspired by rings and incorporated them into the shoulder straps, and together with webbing I feel the straps have a more light and fashionable look.
Laptop and living, on the go : I made the bags spacious so there would room for a laptop, and at the same time a lot of lady stuff like a scarf, or gloves or lip gloss, cream or a notebook. For the backpack I wanted the bag to have a good fit on the back so it was important that it did´nt get to big and masculine.
That is also why the flap is round, to maintain the feminine feel being soft and round and organically shaped.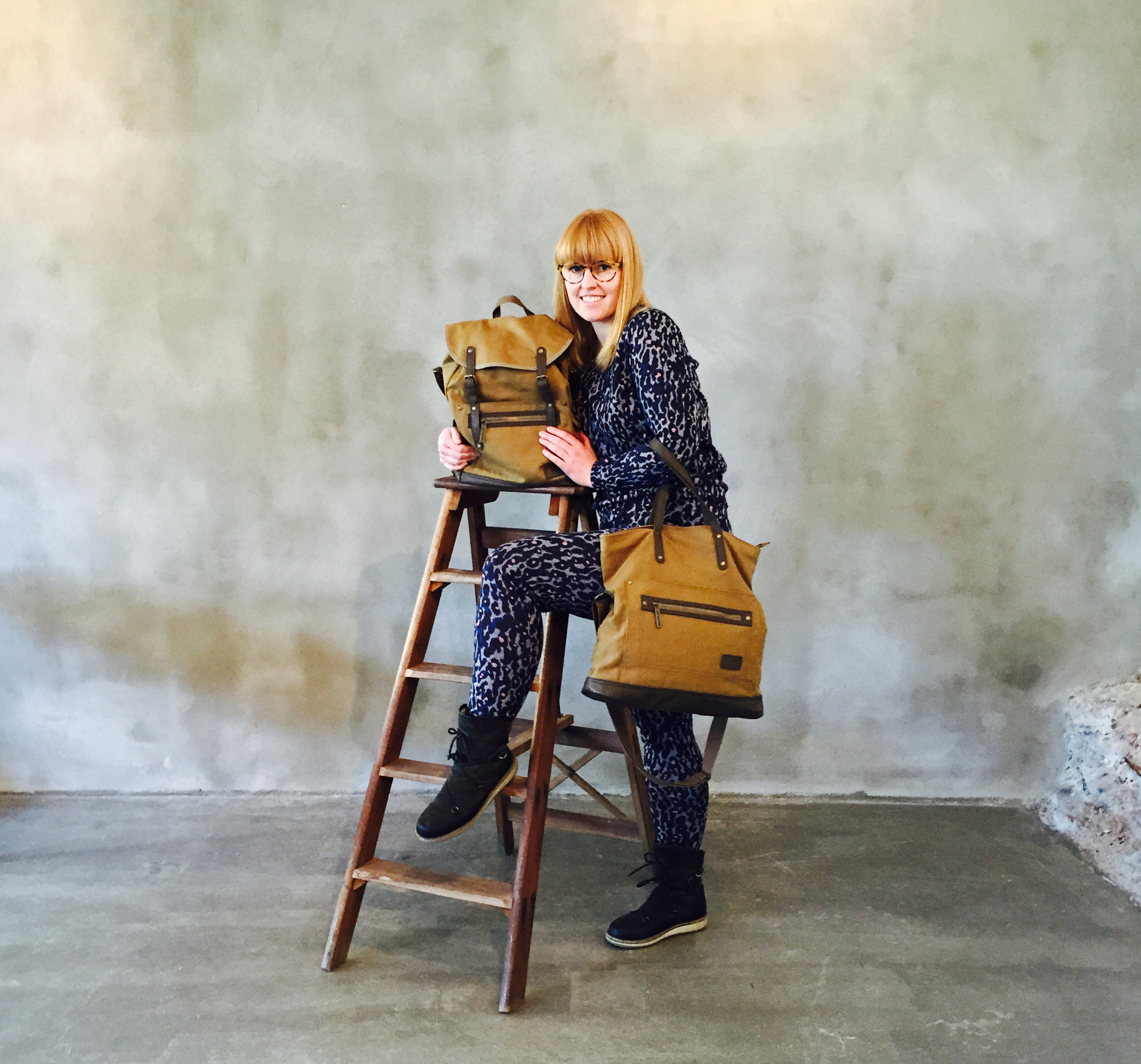 Comfortable : I made the backpack straps wide and with an extra padding detail so they don´t hurt the shoulders even when carrying a heavy load.
I designed the backpack so when carrying it you will still be able to reach you keys in the side pocket. Tha kind of functionality is important for me in my everyday life on my way home from the office, so I don´t have to take the backpack of to get my keys or earplugs.
Regarding textures I wanted to combine the functionality with fashion details where there is a lot of emphases on merging different textures in one design. So I used PU and webbing together with the main fabric.
Gym bags : The floppy look of gym bags is incorporation in the top of the Tote which is designed so it can flap to either side while being carried using the shoulder straps.
Allover prints + surprising details : It was important for me that even the inside of the bag was full of details. The finishing details on the inside pockets and the lining with at POW of color when opening.